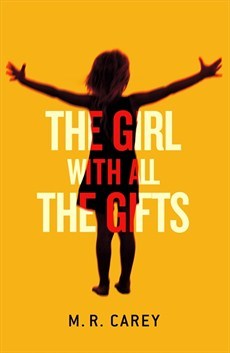 Ten year old Melanie is special, although she doesn't know why, and is kept in a cell overnight. In the morning the Sergeant and his men come to get her, strapping her into a wheelchair while aiming guns at her. She jokes with them that she won't bite; they don't find this funny. She's then taken to a classroom with over twenty other children who are also in wheelchairs. They can't look at or talk to each other and there are days when some are taken away, never to be seen again. Melanie loves school and learning and her favourite teacher is Miss Justineau, and a lot of the story centres on the relationship between the two.
It's very difficult to write a review for this without giving too much away. I only heard of The Girl With All The Gifts a week ago, and as soon as I read the book blurb I couldn't wait to start it. I downloaded it to my kindle as soon as I'd finished my then current read. I was gripped straight away and for me the first third of the novel, set in the military base, was my favourite part of the story. We know that the world outside isn't as it should be and we're told that Birmingham now has a population of zero. Later on in the book, it becomes more of a "survivors against the elements" story.
I've read a lot of post-apocalyptic fiction, some good and some unfortunately not so. The Girl With All The Gifts fits into the first category and the beginning is different to anything else I've read in this genre.
Rating: 4 out of 5